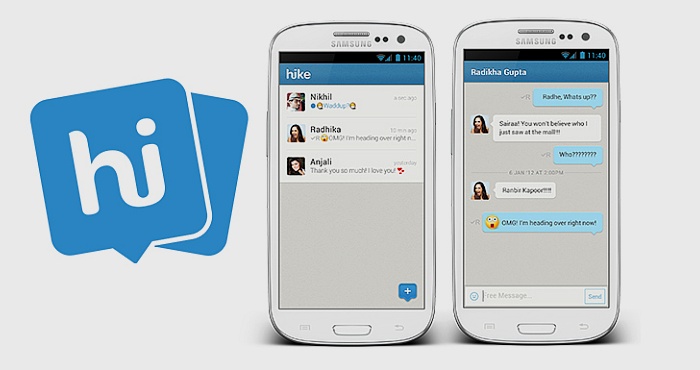 The popularity of Instant messaging has grown immensely in the past few years and we continuously hear about new and advanced IM services being launched that promise to give more. In this review, we will share our opinion about one of the popular instant messaging app with a cool name – Hike.
The file size of the current version of the IM app is 18.74 MB and after being installed, this application consumes 29.60 MB total storage space, and an average of 19 MB to 127 MB of RAM. In the recent years, the popularity of the Hike messenger app has grown in manifolds and it is regarded as a good alternative for WhatsApp.
The Hike Messenger is a free app and despite of being free, it comes with a host of exciting features such as the following:
Hike Direct option allows users to chat with friends or share files with them even without the use of Internet. However, you must ensure that the contact person is within the 100 meters range.
Hide Chat option enables you to hide or protect your private chars from becoming public. To make your chatting more secure, you can set a password in the form of a pattern pr PIN.
Free Stickers on Hike are one of the most expressive ways to convey what you are feeling when words are not enough to express. At Hike, you will find 5000 free Stickers for use.
Free Hike Calls enables you to make high definition voice calls in more than 200 countries using the Wi-Fi network or mobile data.
Hike Offline is another amazing feature that comes handy when you send a message to your friend and he is offline. The message gets delivered like an SMS without any extra fee.
To further enhance your Hike experience and make your chat more enjoyable, you can completely personalize your app by using a chat theme. When you select a new theme and save it for chat, it would be same for both the contacts in a conversation.
Chat Themes: Hike allows its users to personalize converse by applying a chat theme of their choice. When a user selects a different theme for a chat and saves it, the same would be set for both contacts.
Hike Messaging apps has a few drawbacks like the native language support does not have some useful features and the News option is not that advanced. Overall, this is a good and easy to use app.