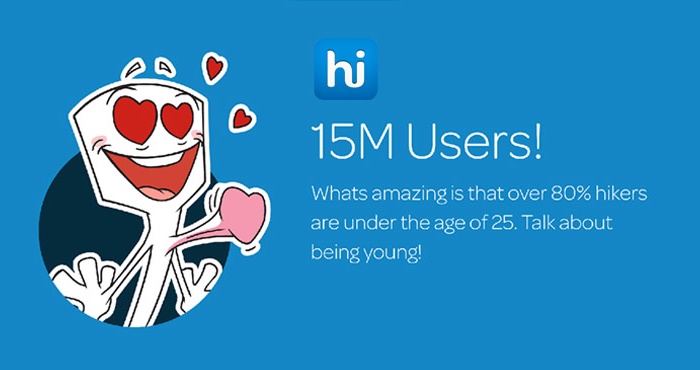 After earning his Masters degree in electrical and electronics engineering and management from Imperial College, London, Kavin Bharti Mittal, launched Hike messaging app. The idea to develop this app came one day when Mittal was hanging out with his friends at one of the market places in Delhi. As he went about the place, he realized that there were many people, specially street side vendors who still had an average mobile phone that give them no Internet connectivity.
Mittal found that these common people did not have any connection with the Internet world and they really needed something simple and cheap to communicate with friends. Hike was launched on December 2012 with the hope to revolutionize the world of communication and make it every man's right to communicate regardless of whether or not he has Internet connectivity on his mobile phone.
Although the messaging app was built keeping Indian average users in mind, surprisingly the initial users of the app were mainly from the Middle East and Germany.  They were impressed with the level of security and privacy offered by this platform.
Analysts are quick to compare the messaging app with the messaging Giant WhatsApp, which is the largest messaging app in the world and it has approximately one billion users worldwide. When Mittal took this idea to the investors to raise the initial funds, he got the target to get three million users in three months time.
To achieve this target, Hike joined hands with the mobile wallet startup called Paytm and through this platform he offered Rs 20 worth of talk time to every new person who joined and Rs 10 worth of talk time for every referral made by the users. The collaboration worked and within two month time, Hike had nearly 5 million users.
However, this taste of success did not last for long as the service collapse soon due to huge amount of traffic and the company lost about 90% of the traffic. Hike discontinued its free talk time offer for some time, fixed the technical errors and re-launched the app. Today, the app has more than 10 million downloads through Android.
The Hike app has been criticized for its heaviness as it weighs 18 mb and it comes with three features. It enables users to send messages even without Internet connection; high level of security for private messaging; and it has certain data constraints.
Download Links